Single SMS
Navigation
Click Messaging
Select Single SMS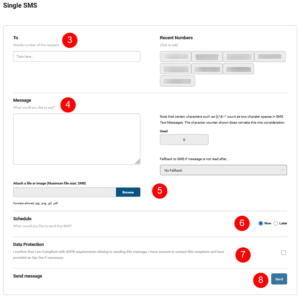 Enter the mobile number of your contact. Recent numbers are shown on the right and these can be chosen by clicking the number.
Compose your message in the message box. For more information on composing SMS messages see here …
If you want to attach a file or image browse to the file and select. (Cadoo link explanation)
Schedule allows you to enter a future date for the message to be sent. Send now is selected as a default for sending.
Click the Data Protection button.
Click Send Message
Bulk SMS
Navigation

Click Messaging
Select Bulk SMS

Click Create Campaign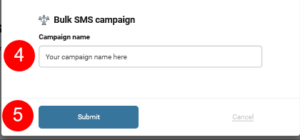 Enter the Campaign name for the Bulk SMS.
Click Create Campaign
There are two methods available : Upload a Spreadsheet with contacts or Send Group Message.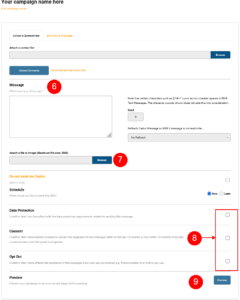 Compose your message in the message box. For more information on composing SMS messages see here …
If you want to attach a file or image browse to the file and select. (Cadoo link explanation)
Schedule allows you to enter a future date for the message to be sent. Send now is selected as a default for sending.
Click Data Protection, Consent and Opt Out boxes.
Click Preview
The Bulk/Group Job information shows a breakdown of the job you are sending. The phone mock up shows you how the message will look when received by your contacts. If you want to change the message click on edit to make your changes. You can save a draft of the bulk job by clicking Save Draft. You can edit the draft by clicking on the Pending tab on the Bulk SMS Campaigns page and clicking on the edit button to the right of the Bulk SMS job name. To send out the Bulk SMS job click Send to send out the messages Now or on your selected future date.
Upload a Spreadsheet of contacts
Click Browse and select your contact list. For more information on the spreadsheet format see here …
Click Upload Contacts.
When your spreadsheet has been uploaded click Continue
Send Group Message
Click on the Send Group Message tab
Select your group(s) by clicking on the group name. A tick will show on the right hand side of the group name
Click on the drop down and click Confirm Selection.
Text Manager
Overview 1. Steps here